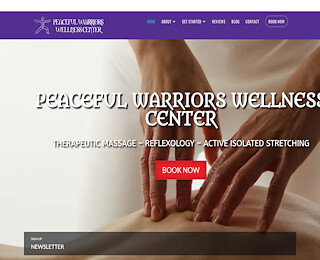 Getting a routine massage is a great way to reduce the stress that can cause fine lines and wrinkles on your face. The tissue that surrounds the nerves, bones, and muscles of the body is known as fascia, and this area is known to hold tension. There are many reasons why you might need a myofascial release in Gulfport. The body is where many people hold their stress and tension, which can contribute to the aches and pains. Tension in the body can be caused by inflammation, trauma, or even posture. Myofascial therapy has been helpful to men and women of all ages in achieving relief and relaxation. This soft tissue massage uses stretching of connective tissues to provide patients with much needed relief. If you are interested in myofascial release in Gulfport, there is not a better place to turn than the Peaceful Warriors Wellness Center.
Myofascial Release in Gulfport
At Peaceful Warriors Wellness Center, we have years of experience providing myofascial release therapy to a wide variety of people. Those who suffer from carpal tunnel syndrome or fibromyalgia find relief from their pain with this type of massage. Reach out to our team today to book your first appointment with our professional therapists who are well seasoned in myofascial release. We will provide you with a relaxing setting where you can collect yourself and feel your pain melt away. Our experts are ready and willing to go above and beyond the call of duty to ensure that you have the best possible experience.
Sixty to Ninety Minute Massages
Depending on your selection, our massages at Peaceful Warriors Wellness Center last anywhere from sixty to ninety minutes. You will have plenty of time to enjoy pain relief, stress relief, and anxiety relief. The benefits of this unique type of massage are practically endless. Living with high levels of stress or pain can cause serious issues that can easily be avoided with a routine massage. Contact our team of experts to learn more information about the different massages that we have to offer. You will be blown away by our high level of excellence and commitment to customer service and care. We are ready and willing to do whatever it takes to cater directly to your individual needs.
Competitive Rates on Quality Services
When it comes to competitive prices, our rates at Peaceful Warriors Wellness Center are hard to beat. It is our mission to provide quality services at rock bottom rates. We believe that massage therapies should be available to anyone, regardless of their budget. Inner wellness and peace begin with taking good care of yourself mentally and physically. A myofascial release can help take care of not only your body, but your mind as well. We can help with sports related injuries and help those who suffer from chronic migraines find relief. There is nothing that our warriors at Peaceful Warriors Wellness Center cannot tackle. Reach out to us today, so we can guide you through our service process and get you started on your way to relief.
Peaceful Warriors Wellness Center, LLC
7278228866
19 Dr Martin Luther King Jr. Street South
St Petersburg FL 33705 US