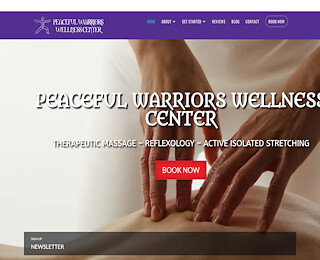 Myofascial release or MFR is a technique in body massages to manually relieve pain and tension arising from the myofascial tissues (myo – muscle, fascia – connective tissue that attaches and separates muscle to organs). MFR is one of the many ways a massage becomes an actual necessity instead of just being a mere luxury. At Peaceful Warriors Wellness Center, therapists perform the best myofascial release in St. Pete.
Benefits of myofascial release
Many studies have proven it to be a promising strategy in treating constant muscle pain and discomfort. This is most important for those who suffer from recurring pain syndrome like fibromyalgia or myofascial pain syndrome. Healthy individuals will also reap the benefits of myofascial release.
A common advantage is an increase in blood flow and circulation. This equates to faster healing and increased oxygenation to different parts of the body. Moreover, MFR helps improve joint mobility, thus, increasing the range of motion. It's an excellent overall procedure to relieve muscle soreness and tension.
Is myofascial release painful?
Myofascial release occasionally becomes uncomfortable because the process involves the application of a long duration stretch to myofascial tissues in the body. However, all of this is a natural part of the process. Therapists know that this is essential to maximize the benefits of the massage. Moreover, no pain will ever be too much to bear. Feel free to discuss any concerns you might have with your therapist regarding myofascial release in St. Pete.
How many sessions will I need for myofascial release?
Results from a myofascial release session differ from every individual. Clients typically experience immediate comfort and relief from muscle pain and soreness with just one session. However, to continue reaping the benefits of this procedure, we recommend going at least every other week for a span of two to three months. Depending on your needs and the severity of your condition, you may need to come in more frequently within that time period. 
What should I expect during my first MFR session?
Our in-house therapists will review your medical history, goals, and concerns. This is to ensure you're getting the most out of your first session. Therapists use skin-to-skin contact without the use of any oil or lotion for this technique. You might need to wear something comfortable to wear so that it will be easy for you to undress prior to the session. Each session will last for at least 60 minutes.
Myofascial release vs. Trigger point therapy
Myofascial release involves a long duration stretch and tension on the myofascial complex. This involves a much broader area to work with. Meanwhile, trigger point therapy focuses more on applying pressure on specific myofascial points.
Talk to any of the expert therapists at Peaceful Warriors Wellness Center to find out if myofascial release is for you. They specialize in different types of massages and techniques for any of your pain concerns. Book an appointment now for a session of myofascial release in St. Pete.
Peaceful Warriors Wellness Center, LLC
7278228866
19 Dr Martin Luther King Jr. Street South
St Petersburg FL 33705 US