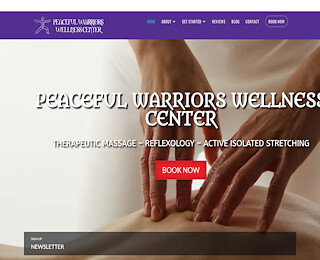 A massage is one of the easiest ways we can get to take care of our bodies. Peaceful Warriors Wellness Center is home to many therapists who specialize in improving your quality of life through relief of many illnesses and chronic pain. It's the place to go for a therapeutic massage in St. Pete.
How does massage work?
Therapeutic massage is the act of mobilizing one's muscles and deep tissues in order to restore the balance to your body's overall function. It's a service acquired to relieve the body of tension and stress. Moreover, it also improves the body's blood circulation and lymphatic drainage. All of which helps keep the body's systems functioning optimally.
Anyone of all ages will find a gentle, relaxing massage to be beneficial. The most common benefit experienced by many is stress relief. When we are stressed, it makes the muscles of our body, especially the neck and shoulder muscles, tensed and contracted. Thus, we experience chronic pain and tenderness. For this, we need the manual mobilization of the muscles to release the tension, and that's when the massage is perfect for the job. Second, a massage helps us relax. This is great for those who suffer from insomnia or any sleep difficulty. As previously mentioned, the techniques employed in massages help the flow of blood and lymph in our bodies.
The right massage type for you
To find out what type of massage you should get, you should figure out what your main problem is. This could be postural imbalances, stress-related pain, muscle strain, autoimmune disorders, or limitation of motion. At Peaceful Warriors, we offer a variety of therapeutic techniques to make sure you find the right one for you. Our therapists are well-trained in all types of massage your body requires – deep tissue, reflexology, myofascial release, hot stone massage therapy, and many more! If you're unsure which one to pick, we'll be happy to assess and give our expert advice on therapeutic massage in St. Pete.
What to expect on your first massage therapy visit?
On your first visit, your therapist will review your medical history to consider your health concerns and goals. Our therapists will only prioritize your comfort and the need for a relaxing, soothing experience. After laying down on the massage table, our therapist will cover you with a sheet.
During the massage, your therapist will either use oil or lotion. Depending on your body's needs, the focus will be on the tight and tensed muscles. The session will last for around 30-90 minutes, depending on your preference and needs.
Now you've just finished the first step of your journey towards achieving a healthy and tense-free body. Peaceful Warriors Wellness Center will cater to all of your needs, through advanced therapeutic massage in St. Pete. Our experts are highly proficient at what they do and will give you the service and treatment you deserve.
Peaceful Warriors Wellness Center, LLC
7278228866
19 Dr Martin Luther King Jr. Street South
St Petersburg FL 33705 US